What an incredible tournament! Thank you guys for participating and making it such a great night.
We had a total of 17 participants and many spectators!
It came right down to the last game!
Congratulations to the winners!
First place – Michael Molenaar with 7.0/8.0!
2nd place – Ben Colman with 6.5/8.0!
3rd place – Nimesh Shamalka with 5.0/8.0!
Best under 1500 -Anthony Caldwell!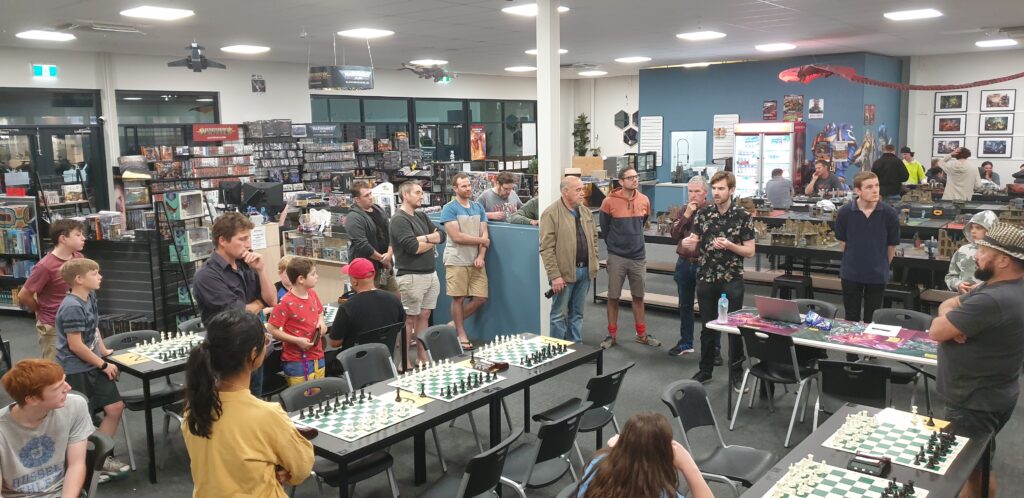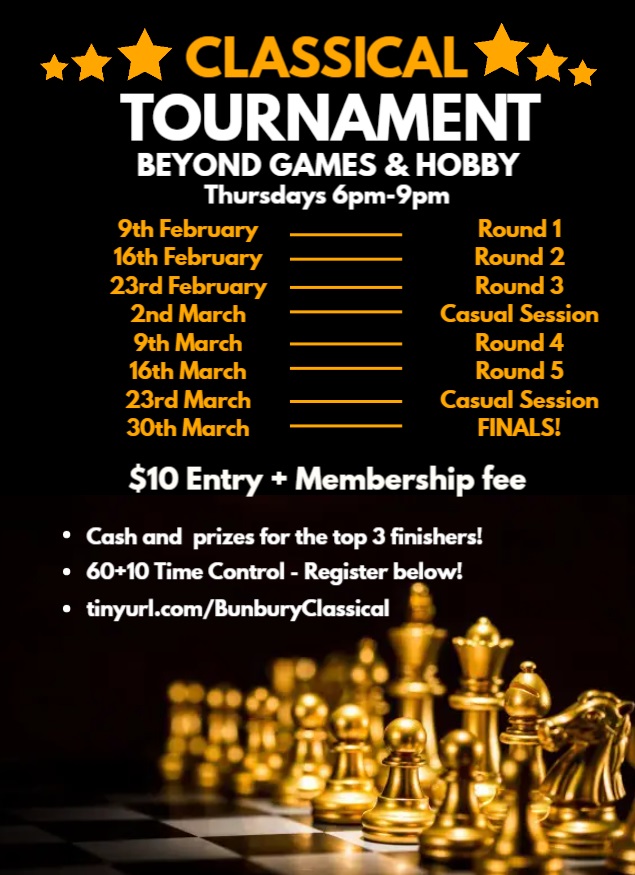 Well that's a wrap for the Bunbury Classical Chess Championship! It was a long journey thank you for being with us for it
Congratulations to our winners!
1st place – Michael Molenaar goes back-to-back with 5.0/6.0!
2nd place – Stephen Mazza with 4.0/6.0!
3rd place – Andrew Fyfe with 4.0/6.0!
Best under 1500 – Ruchira Chakravarty with 3.0/6.0!
You can watch all the completed games here: https://lichess.org/study/SuL93nzW
Game of the round goes to Stephen Mazza for his excellent tactical shot 22.. Knight takes g3! Winning a pawn and winning the light squared bishop advantage. The light squares proved too weak for white to survive.
As usual we want to thank our amazing hosts Beyond – Games and Hobby for their incredible hospitality. Please check out their amazing selection of board games and strategy games!
Thanks for reading
and we will see you soon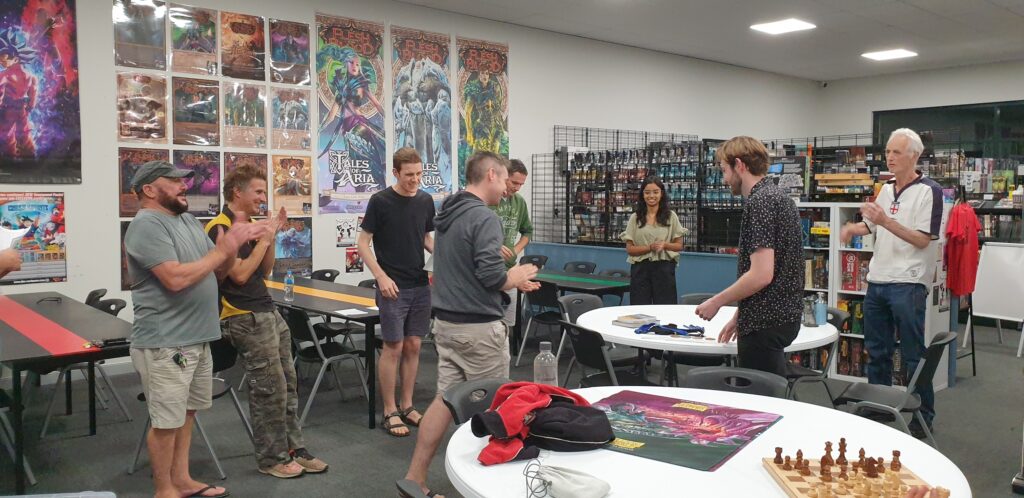 Congratulations to our 2023 Rapid Champion Ben Colman!!!
It was our closest tournament yet! Ben took out the title with an impressive 4.5/6! Winning himself $70, a trophy and his name carved in BCC history on the awesome perpetual lightning trophy made by Kelvin Rabey!
Well done to Noah Bufton taking 2nd place with 4/6! Taking home $50 and a medal.
Great stuff Dave Serino taking 3rd with 4/6! Taking home $30 and a medal.
Thanks everyone for participating!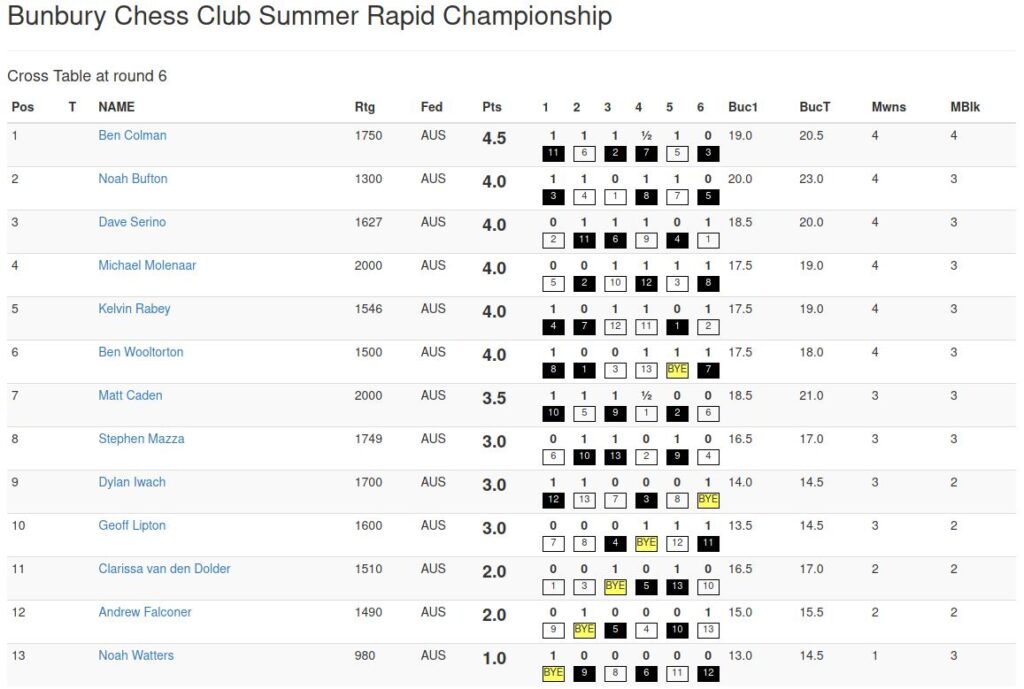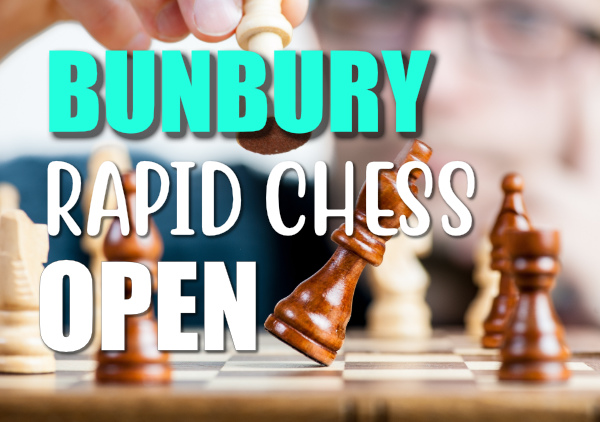 We held our inaugural Rapid Chess Open on August 21st, 2021. The day was a great success with registrations sold out, and some fierce competition within both the Junior and Open categories. Matthew Caden took out the first prize in the Open category, winning a $100 voucher along with his trophy. Runner up was Bunbury chess veteran Julian Painter. Timothy Kaempf did very well for his age by playing up in the Open division, stretching himself against the adults. Logan Kerr won the Junior category, with Patrick Depillo runner up, and Caspian Reid a close third.